Due to popular demand, we have added a new mens gallery to show different versions of long, short, medium, curly and layered looks. Men's hair styles are quite varied, as you can see in the photos. Shorter on the sides and longer on the top. Men's hair style shown below have long layers, with color highlights.
Long layers help the hair to lay smoothly without the extra bulk created by thick, coarse hair.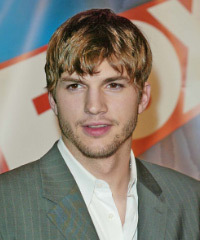 Long wavy hair can also benefit from long layers. It is important that you go to a hair stylist that has experience cutting curly hair, since layers can be a little tricky when they are curly.
This funky look is an easily maintained style. Soft angled layers have been cut throughout Ashton' s hai. Thick to medium for great is this look.
Ashton Kutcher is wearing a medium length hair style with very long layering. The long layers help the hair to lay smooth against the head.
This style works well with added highlights and lowlights
This is a cool and funky style for this seasoned actor. Alec's hair has been clipper cut short on the sides and back and his top section has been cut to the same length, but his bangs have been left longer and textured with a jagged cut.

How to Style:
Apply styling wax to damp hair. Using your fingers, rub the wax all over the entire hair. Remember, the messier, the better. Allow the hair to dry naturally.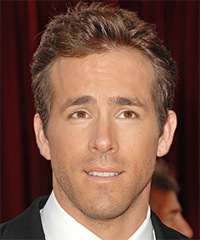 Create this look by applying strong hold mousse or gel to damp hair and use your fingers to position hair.
Ryan turned heads with this neat and tidy 'do at the 82nd Annual Academy Awards. The top is jagged cut to create a little height, blending into the short cut back and sides for a swift finish.